Politics, Morality, and Conscience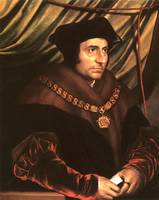 In his famous 'Pius XXIII quote,' John Kerry clumsily formulated his theory of a rigid demarcation between the autonomous spheres of politics and morality, any transgression of which runs up against the stalwart palisade of the 'primacy of conscience.' Kerry's hero is the 'man of conscience,' bravely taking his stand against the onslaught of all external foes, against the 'voices of the establishment,' standing firm upon the bulwark of his inner convictions. The 'man of conscience' is a martyr, a saint, willing to sacrifice life and limb to defend the sanctuary within the innermost depths of his being.

Today, June 22, gives the universal Church the opportunity to celebrate the life of one of her own saints and martyrs, St. Thomas More of England. The life of St. Thomas is well-known, and does not require repeating here. Above all, More embodies what it means to be both a statesman and a churchman; he carries himself about in both worlds with such singular grace and ease, as if, for him, they were the same world. He carried out the duties of state as a man led by his conscience, and his was a conscience formed above all by the ageless tradition of Mother Church, by the constant and unequivocal teaching of the Pope and bishops through the ages. In my favorite scene from Robert Bolt's A Man for All Seasons, in a scene where More is being pressured by Cardinal Wolsey to abandon this same conscience in the face of the pressing duties of state, he responds, "When statesmen forsake their own private conscience for the sake of their public duties, they lead their country by a short route to chaos."

Perhaps it was precisely this approach to the duties of state that the Holy Father had in mind when, in a Motu Proprio delivered four years ago, he solemnly proclaimed St. Thomas More the patron saint of statesmen and politicians. In this Motu Proprio, the Holy Father similarly highlights the primacy of conscience, "the basic principle of every civil order consonant with human nature." The conscience which the Pope has in mind, however, is always one rooted in the vision of man divinely revealed in Scripture and the tradition of the Church. Thus, St. Thomas is said to embody a particular "unity of life," in which the "everyday professional and social life" of the lay faithful is harmoniously integrated into communion with God and Christ, into which communion others are naturally invited. It is a lived "harmony between the natural and the supernatural" which most defines the personality of the English martyr, led by the "certainty of [a] judgment rooted in faith." At the close of his oration, the Holy Father propounds a statement which, as a concrete summary of the life of St. Thomas More, and as a standing dictum regarding Catholic political life, has resounded in the Catholic intellectual community like a crack of lightning: "What enlightened his conscience was the sense that man cannot be sundered from God, nor politics from morality."

For John Kerry, on the other hand, the primacy of conscience is at root a private confidence ("my oath privately between me and God"), the function of which is primarily to grant personal liberty with respect to public actions vis-a-vis objective moral laws ("[it] allows for freedom of conscience for Catholics with respect to these choices"). It is, at heart, a divisive instrument, which severs the public duty of a statesman from the moral dictates of divinely-revealed truth. "It is separate," he says, a chasm which no bridge can cross. It knows of no harmony, no unity, no integration with the natural law and its moral demands, only isolation.

St. Thomas More, for his part, knew that moral convictions are no threat to the political and civic realm. On the contrary, if this realm is not undergirded, quickened, and animated by the positive influence of the moral law, it will decay and ultimately commit moral suicide. For its very preservation, the political realm requires at its very heart the active incorporation of a human conscience - but not just any conscience: a conscience formed throughout by the person of Jesus Christ, who alone unites man and God.

The United States bishops know this also, and an awareness of this necessity is reflected, at least seminally, in the recent statement on 'Catholics in Political Life': "Catholics who bring their moral convictions into public life do not threaten democracy or pluralism but enrich them and the nation. The separation of church and state does not require division between belief and public action, between moral principles and political choices." The bishops, however, cannot play the part of statesmen. Their role is ultimately to teach and to persuade. In the end, the Church has need of statesmen - but not just any statesmen: statesmen willing to follow the lead of their patron, St. Thomas More - saint, martyr, and man of state.

MONTHLY ARCHIVES:
03/01/2004 - 04/01/2004 04/01/2004 - 05/01/2004 05/01/2004 - 06/01/2004 06/01/2004 - 07/01/2004 07/01/2004 - 08/01/2004 08/01/2004 - 09/01/2004 09/01/2004 - 10/01/2004 10/01/2004 - 11/01/2004 11/01/2004 - 12/01/2004 12/01/2004 - 01/01/2005 03/01/2005 - 04/01/2005
Contributing Editors:
Oswald Sobrino of
Catholic Analysis

Earl E. Appleby of
Times Against Humanity

Jeff Miller of
The Curt Jester

Jamie
Ad Limina Apostolorum

Christopher Blosser of
Against The Grain


CKW Shop
Proceeds will be donated to De Fide!
FREE
Voter's Guide for Serious Catholics
Read it online, or click here to have a free copy mailed to you.

Kerry's Critics
Bloggers
Ad Limina Apostolorum
The Black Republican
The Blog From The Core
Catholics for Bush [Blog]
Catholic Light
Defensor Fidei (Jimmy Akin)
Disputations
Domenico Bettinelli, Jr.
Fidelis
The Galvin Opinion
Just Being Frank
Laudem Gloriae
Let's Try Freedom
Mark Shea
[The Meandering Mind of a Seminarian]
The Mighty Barrister
Open Book
Pilgrimage
Thrown Back
TriCoastal Commission

Organizations
Catholics Against Kerry
CatholicVoter.Net
De Fide Kerry Wrong For Catholics
Priests For Life

News Resources
CatholicFactor
CNN.com
Google News
LifeNews.com
Mallon's Media Watch
New York Times
Yahoo News
Kerry Communion Watch @ Beliefnet.com
The Candidates on Abortion: Where do they stand?
Documentation
Periodicals
National Catholic Reporter
National Catholic Register
The Hill
Crisis Magazine
National Review
Weekly Standard
Related Documents & Articles
Worthiness To Recieve Communion: General Principles
Cardinal Joseph Ratzinger
Doctrinal Note on some questions regarding The Participation of Catholics in Political Life
Congregation for the Doctrine of the Faith
Evangelium Vitae
Pope John Paul II
Worthy to Receive the Lamb: Catholics in Political Life and the Reception of Holy Communion, from Archbishop Donoghue (Atlanta, GA), Bishop Baker (Charleston, SC) and Bishop Jugis (Charlotte, NC).
August 4, 2004

Catholics in Political Life U.S. Conference of Catholic Bishops. June 7, 2004.

Catholic Politicians and Bishops. By Most Rev. Raymond L. Burke, Archbishop of St. Louis. America June 21-28, 2004.
A Time For Honesty, Pastoral Statement by The Most Reverend John J. Myers, Archbishop of Newark. May 5, 2004.
Why Communion Could Be Denied to Anti-Life Legislators. Interview with Father Thomas Williams, dean of the School of Theology of the Regina Apostolorum Pontifical Athenaeum.
Why Don't Catholic Politicians Practice What the Catholic Church Preaches?, by Judie Brown. Washington Dispatch April 19, 2004.
How to tell a Duck from a Fox: Thinking with the Church as we look toward November, by Archbishop Chaput. Denver Catholic Register April 14, 2004.
On the Dignity of Human Life and Civic Responsibility, a Pastoral Letter by La Crosse Bishop Raymond L. Burke.
Blood On Their Hands: Exposing Pro-abortion Catholic Politicians, by Mark Stricherz. Crisis May 2003.
The Failure of Catholic Political Leadership, by Robert P. George & William E. Saunders. Crisis 18, No. 4 (April 2000).
Denying Holy Communion: A Case History, by Bishop Emeritus Rene Henry Gracida. [PDF Format].
Ten questions regarding the denial of the Eucharist, by Barbara Kralis.
Recommmended Reading
John Kerry, Abortion and the Catholic Church
On Embryonic Stem-Cell Research
Reagan vs. Reagan and The Stem-Cell Cover-Up, Catholic Kerry Watch, August 14, 2004.
Senator Kerry dismisses religious convictions as "ideology"Â  Catholic Kerry Watch. August 9, 2004.
Ron Reagan & Functionalism, Revisited, Catholic Kerry Watch. July 29, 2004.
Out of Touch, by Michael Fumento. Refuting Kerry's claims on the use of embryonic stem cells. Citizen Magazine August 2004.
Stem Cell Defection, by Ramesh Ponnuru. National Review August 16, 2004.
Stem Cell Research: Fact Sheets, Letters to Congress and Articles from the USCCB.
On Voting, "Proportionality" and Cardinal Ratzinger's Memorandum
Spread the truth!
Download this ad today!

<<
#
St. Blog's Parish
?
>>